US$30.00 each - Free Worldwide Delivery
Limited Time Offer: US$10 off! Now only US$19.99!
more currencies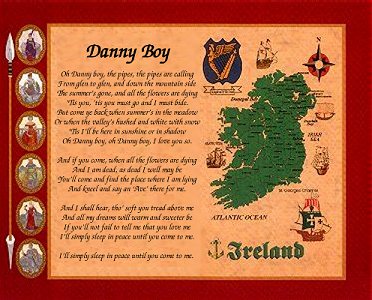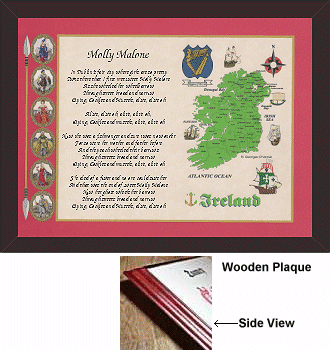 US$40.00 each - Free Worldwide Delivery
Limited Time Offer: US$7 off! Now only US$33!
more currencies


High Quality Prints Printed on high quality paper and showing the full lyrics to your favourite Irish song as well as the map of Ireland! Size 8 * 10 inches, perfect for framing (not supplied). Makes the perfect gift.



Beautiful Plaques Printed on a Rosewood plaque size 9*7 inches and just over a half inch deep, these plaques are provided with a handy slot at the back for wall-hanging.



Free Delivery! For a limited time we are offering no added delivery costs whatsoever. Usual delivery time is 7 to 14 days. Faster Delivery Options.



Secure Ordering. Our Site uses secure SSL ordering to process credit card details so your details are safe and sound when ordering your family crest prints.



7 Irish Screensavers Free! Irish Pubs, Paintings, Family Crests, Oscar Wilde, Whiskey Labels, Postage Stamps and Irish Authors Screensavers free with every order.



Include a Gift Card! Our order form allows you to select a gift card (Happy Birthday, Happy Christmas, Thanks, etc.) and to add your personal message which we will include with your order!



Lyrics for these Irish Songs are available

All Through the Night Amhran na bhFiann (The Irish National Anthem) An Emigrant's Daughter An Irish Lullaby As I Roved Out Back Home in Derry Banks of the Roses Black is the Colour Black Velvet Band Bonnie Kellswater Bridgit O'Malley Carrigfergus Cliffs of Doneen Cockles and Mussels Come Back Paddy Reilly Come to the Bower Danny Boy Dirty Old Town Down by the Sally Gardens Eileen Aroon Endearing Young Charms Erin Go Bragh Father O'Flynn Four Green Fields Give Me Your Hand Green Grow the Lilacs Haste to the Wedding I'll Take You Home Again Kathleen I'll Tell My Ma Johnny I hardly Knew Ye Kilgary Mountain Lakes of Pontchartrain Lanigans Ball Mairie's Wedding My Singing Bird Parting Glass Pretty Maid Milking The Cow Red is the Rose Rocky Road to Dublin Roddy McCorley Roisin the bow Saint Anne's Reel She Moved Through the Fair Skibberreen Slane, be thou my Vision Spancil Hill Star of the County Down The Croppy Boy The Dawning of the Day The Fields of Athenry The Foggy Dew The Hills of Connemara The Irish Emigrant The Irish Washerwoman The Jolly Beggar The Kerry Dance The Lark In The Clear Air The Maid Who Sold Her Barley The Minstrel Boy The Mountains of Mourne The Rakes of Mallow The Rose Of Mooncoin The Rose of Tralee The Spinning Wheel The Verdant Braes Of Skreen The Water is Wide The Wearing Of The Green The Wild Rover When Irish Eyes are Smiling Whiskey in the Jar Will Ye Go Lassie Go