Frequently Asked Questions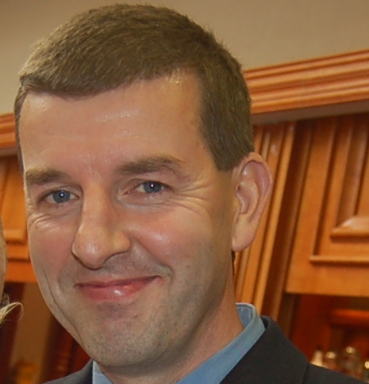 Hi! Michael Green here. If we can be of any assistance then please DO contact us. I will ensure you get a reply as quickly as possible. We have put together the most frequently asked questions below so the answer to your question may already be there. If not, please do contact us.
Email Michael
by Completing the Simple Form
HERE
Telephone Michael:
+353 1 2893860
(Office hours: 9am to 6pm GMT = 4am to 1pm EST = 1am to 10am PST)
Postal address:
IrishNation.com, 17 Páirc Ghrainbhil, Carraig Dubh, Contae Baile Átha Cliath, Ireland

Michael Green, IrishNation.com
FREQUENTLY ASKED QUESTIONS
Q: Do you really deliver world-wide for free?
A: We sure do! We deliver to Australia, America, England, Ireland, Canada, Germany, South Africa, New Zealand, Thailand, China, Russia, Argentina, Japan and also to...... well, you get the idea!
Q: I need this in a hurry - can you meet my deadline?
A: We will certainly do our best! See our
delivery options
or
contact us
and we will let you know what is possible.
Q: Where can I view my Family Crest for Free?
A: We have a Gallery with over a 1000 Family Crests and Family History details free for you to view. You can view it for free by clicking
Here
or
Here
.
Q: Are Gifts for MY Name available?
A: Probably! Our researcher has access to tens of thousands of names. If we cannot supply your name then no charge whatsoever is applied. If you have a picture or a photo of a design that you want replicated then
contact us
and you can then email it to us.
Q: Where do you find these Family Crests - are they authentic?
A: There are thousands of manuscripts and books that record ancient family crests/coats of arms. Among the most referenced resources include Burkes General Armory, 1842, The Rietstap Armorial, 1861, and Rolland's Illustrations to the Armorial General, among countless others.
Q: Isn't it true that only individuals can have a family crest/coat of arms?
A: Alas this is a common misconception and is just as incorrect as the statement: 'Every family has their own Family Crest'. Every family does not! Some family crests/coats of arms were indeed granted to individuals while other were granted/claimed/assigned to a family/clan/sept.

Q: Can I pay by Paypal?
A: Yes you can! Our Shoping Cart has a Paypal payment facility or alternatively we can email you a Paypal Link .
Q: Can I pay by Cheque/Draft?
A: Yes you can! Bank drafts made out in EUROs are the fastest way to go. We do accept personal cheques but have to wait 28 days for them to clear. We cannot accept Postal Orders.
Contact us
for more details.
Q: Do you supply printed catalogs?
A: Yes we do!
Contact us
to send us your details and we will post it to you. No Charge!
Q: Are my details secure?
A: Yes, very. Our site uses SSL which is the worldwide standard for encryption and security on the Web. There has never been a recorded case of an SSL server being compromised. Ever.
Q: I missed the delivery and the parcel was returned to you - will you re-ship?
Occasionally a Courier or Postal Service will attempt to deliver a parcel but no-one is home. They usually leave a note for collection but sometimes the parcel is not collected and is returned to us! In this situation we will re-ship it at 'cost' to the recipient (and will keep that cost as low as possible).
Q: What is your 'Send a Photo' Promotion?
A: We love it when our customers tell us that they love our products.
Email us
a few usable digital camera photos that show the product in use (or the product being accepted as a gift) and we will send you a free family crest print for the name of your choosing absolutely free of charge (usual price is US$24.99). View sample photos
on this page
.
Q: How can I get the ring size for a claddagh or signet ring I want to order?
A: The simple way is to bring an existing ring owned by the person to a jeweller who can size the ring in seconds for no charge. Alternatively, measure the circumference or diameter of the finger that will wear the ring. Use the chart below to estimate the ring size. Rings can be easily re-sized in a local jeweller for a small charge if necessary.

Ring Size 3 = 44 mm circumference or 14 mm diameter
Ring Size 4 = 47 mm circumference or 15 mm diameter
Ring Size 5 = 49 mm circumference or 16 mm diameter
Ring Size 6 = 51.5 mm circumference or 16.5 mm diameter

Ring Size 7 = 54 mm circumference or 17 mm diameter
Ring Size 8 = 57 mm circumference or 18 mm diameter

Ring Size 9 = 59 mm circumference or 19 mm diameter
Ring Size 10 = 62 mm circumference or 20 mm diameter

Ring Size 11 = 64 mm circumference or 21 mm diameter
Ring Size 12 = 66.5 mm circumference or 21.5 mm diameter

Ring Size 13 = 69 mm circumference or 22 mm diameter
Ring Size 14 = 72 mm circumference or 23 mm diameter

Q: What are the Terms of Sale?
A: The full Terms of Sale are shown below. We try our best to help when things go wrong (the most usual problem is that the client has ordered a wrong item!) so
talk to us.
1. Wrong Item ordered: Where the client orders and receives an item which subsequently turns out to be incorrect (i.e. the client ordered the wrong item), then IrishNation.com will make every attempt to replace the item with the desired item up to the same value. Where 'customisation' has occurred then an additional charge may be levied. A Shipping charge will be levied.

2. IrishNation.com will replace any item that the client is dissatisfied with upon it being returned to us. A refund will be provided less the cost of our shipping, customization charges (if any, for example a hand-painted plaque) and our credit card processing. This returns policy does not apply to any jewellery item or to any individually customised items and to specifically commissioned works of art. The cost of returning an item to irishnation.com rests totally with the client. Where returned goods have been opened by the client (for example C.D.'s) then a replacement charge will be levied.

3. When you pay for goods by credit card you are billed in either US$ or EUROs. If you use a currency other than US$ then YOUR credit card company automatically converts the US$ price into your local currency. The exchange rates used by your credit card company varies daily and is totally beyond our control.

4. IrishNation.com accepts no responsibility for any customs levies or import taxes or duties that may be applied to your order. Any such charges are the responsibility of the client and are beyond our control. That vast, vast majority of our deliveries have no such problems.

5. All products offered are subject to availability. Where an item is unavailable for whatever reason then a suitable replacement may be offered to the client. IrishNation.com shall not be liable for any loss or damage, howsoever caused, arising from the unavailability of any item.

6. IrishNation.com provides SSL security and protects the credit card details of our clients. Where an item is returned or an order cancelled for no apparent reason and where the customer has already been billed then credit card processing fee may be applied.

7. Missed Delivery: Occasionally a Courier or Postal Service will attempt to deliver a parcel but no-one is home. They usually leave a note for collection but sometimes the parcel is not collected and is returned to us! In this situation we will re-ship it at 'cost' to the recipient (and will keep that cost as low as possible).

8. An Incorrect or Incomplete Delivery Address was provided: Sometimes incorrect or old delivery addresses are provided to us by the customer and consequently the delivery is often returned to irishnation.com. There are no refunds offered while the original parcel is in transit. Nor can any order be cancelled due to an incorrect or incomplete address being provided. For example, the omission of a valid and accurate postcode or ZIP code may result in severe delays in a delivery being completed. In the case of a delivery being considered as lost in transit then irishnation.com will offer to reship a new delivery at a reduced price to the customer (and will keep that cost as low as possible).

9. Provision of Software, Graphics, Screensavers, any Digital Content:
You are licensed to use these files on any 1 PC in your possession. Distributing or copying the files to friends or relatives is theft just as if you had stolen directly from the pocket of the creators of this software. Software piracy is a crime. Do not condone it. Do not do it. This software is Copyright 2018 - IrishNation.com. Distribution of this software in any manner is illegal. This software is provided 'as is' without warranty of any kind. IrishNation.com further disclaims all implied warranties including without limitation any implied warranties of merchantability or of fitness for a particular purpose. The entire risk arising out of the use or performance of the software and documentation remains with you. In no event shall IrishNation.com or anyone else involved in the creation, production, or delivery of the software be liable for any damages whatsoever (including, without limitation, damages for loss of business information, or other pecuniary loss) arising out of the use of or inability to use the software or documentation, even if IrishNation.com has been advised of the possibility of such damages.

10. GDPR Privacy Statement:
What Personal Data do we collect?
* Only that necessary to complete an order for goods and as volunteered by the customer (ie name, address, phone number, delivery address, etc.)
* Only that necessary for providing email updates as volunteered by the customer (ie email address, mailing address, etc.).
The personal data we collect will be used for the following purposes: The completion of a transaction (ie the sale and provision of goods and/or services).
Any legitimate interests pursued by us, or third parties we use, are as follows: The completion of a transaction (ie the sale and provision of goods and/or services).
The special categories of personal data concern are: None.
Consent: By consenting to this privacy notice you are giving us permission to process your personal data specifically for the purposes identified. You may withdraw consent at any time by cancelling any order or transaction in accordance with the agreed terms of sale.
Disclosure: irishnation.com will never pass on your personal data to any third parties without first obtaining your consent. The only third-parties who you agree to allow access your personal data include VISA, MASTERCARD, AMERICAN EXPRESS, GLOBAL PAYMENTS or PAYPAL and will be limited to those necessary to process your transaction depending on the data provided by the customer.

Your email address will never be given to any third party.