Frequently Asked Questions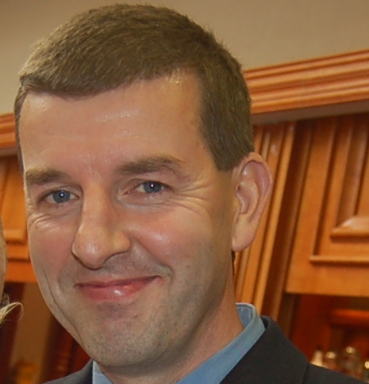 Hi! Michael Green here. If we can be of any assistance then please DO contact us. I will ensure you get a reply as quickly as possible. We have put together the most frequently asked questions below so the answer to your question may already be there. If not, please do contact us.
Email Michael
by Completing the Simple Form
HERE
Telephone Michael:
+353 1 2893860
(Office hours: 9am to 6pm GMT = 4am to 1pm EST = 1am to 10am PST)
Postal address:
At Irish Nation, P.O. Box 9142, Blackrock, County Dublin, Ireland

Michael Green, IrishNation.com
FREQUENTLY ASKED QUESTIONS
Q: Do you really deliver world-wide for free?
A: We sure do! We deliver to Australia, America, England, Ireland, Canada, Germany, South Africa, New Zealand, Thailand, China, Russia, Argentina, Japan and also to...... well, you get the idea!
Q: I need this in a hurry - can you meet my deadline?
A: We will certainly do our best! See our
delivery options
or
contact us
and we will let you know what is possible.
Q: Where can I view my Family Crest for Free?
A: We have a Gallery with over a 1000 Family Crests and Family History details free for you to view. You can view it for free by clicking
Here
or
Here
.
Q: Are Gifts for MY Name available?
A: Probably! Our researcher has access to tens of thousands of names. If we cannot supply your name then no charge whatsoever is applied. If you have a picture or a photo of a design that you want replicated then
contact us
and you can then email it to us.
Q: Where do you find these Family Crests - are they authentic?
A: There are thousands of manuscripts and books that record ancient family crests/coats of arms. Among the most referenced resources include Burkes General Armory, 1842, The Rietstap Armorial, 1861, and Rolland's Illustrations to the Armorial General, among countless others.
Q: Isn't it true that only individuals can have a family crest/coat of arms?
A: Alas this is a common misconception and is just as incorrect as the statement: 'Every family has their own Family Crest'. Every family does not! Some family crests/coats of arms were indeed granted to individuals while other were granted/claimed/assigned to a family/clan/sept.

Q: Can I pay by Paypal?
A: Yes you can! Send us the details of the items you want to order and the price and we will email you a Paypal Payment Request which will allow you to pay using your Paypal Account.
Q: Can I pay by Cheque/Draft?
A: Yes you can! Bank drafts made out in EUROs are the fastest way to go. We do accept personal cheques but have to wait 28 days for them to clear. We cannot accept Postal Orders.
Contact us
for more details.
Q: Do you supply printed catalogs?
A: Yes we do!
Contact us
to send us your details and we will post it to you. No Charge!
Q: Are my details secure?
A: Yes, very. Our site uses SSL which is the worldwide standard for encryption and security on the Web. There has never been a recorded case of an SSL server being compromised. Ever.
Q: I missed the delivery and the parcel was returned to you - will you re-ship?
Occasionally a Courier or Postal Service will attempt to deliver a parcel but no-one is home. They usually leave a note for collection but sometimes the parcel is not collected and is returned to us! In this situation we will re-ship it at 'cost' to the recipient (and will keep that cost as low as possible).
Q: What is your 'Send a Photo' Promotion?
A: We love it when our customers tell us that they love our products.
Email us
a few usable digital camera photos that show the product in use (or the product being accepted as a gift) and we will send you a free family crest print for the name of your choosing absolutely free of charge (usual price is US$24.99). View sample photos
on this page
.
Q: How can I get the ring size for a claddagh or signet ring I want to order?
A: The simple way is to bring an existing ring owned by the person to a jeweller who can size the ring in seconds for no charge. Alternatively, measure the circumference or diameter of the finger that will wear the ring. Use the chart below to estimate the ring size. Rings can be easily re-sized in a local jeweller for a small charge if necessary.

Ring Size 3 = 44 mm circumference or 14 mm diameter
Ring Size 4 = 47 mm circumference or 15 mm diameter
Ring Size 5 = 49 mm circumference or 16 mm diameter
Ring Size 6 = 51.5 mm circumference or 16.5 mm diameter
Ring Size 7 = 54 mm circumference or 17 mm diameter
Ring Size 8 = 57 mm circumference or 18 mm diameter
Ring Size 9 = 59 mm circumference or 19 mm diameter
Ring Size 10 = 62 mm circumference or 20 mm diameter
Ring Size 11 = 64 mm circumference or 21 mm diameter
Ring Size 12 = 66.5 mm circumference or 21.5 mm diameter
Ring Size 13 = 69 mm circumference or 22 mm diameter
Ring Size 14 = 72 mm circumference or 23 mm diameter

Q: Who runs the @irishnation.com email service?
A: The @irishnation.com email service is provided by everyone.net. We have no control over their spam filters or who is banned or why. Everyone.net offers a Mailplus premium service. Irishnation.com does not receive any payments from everyone.net for this. If you decide to change to their Mailplus service then your contract is with Everyone.net and not with irishnation.com. By using the @irishnation.com mail service provided by everyone.net you agree to indemnify, defend and hold irishnation.com harmless against any claims brought against irishnation.com for any reason whatsoever. By using the @irishnation.com email service you are agreeing to the everyone.net terms of use: http://www.everyone.net/support/agreement_enduser.html

Q: Why is my @irishnation.com email account suspended?
A: The two main reasons for suspension are:
A message that was sent out was physically reported as spam by the recipient. If the recipient of an email message reports your account as having sent a spam message (and provides that spam message) then your account will be suspended.
A message an email account holder is trying to send trips the outbound spam filter. If a spam message activates our spam filter the sender does get an error message saying something like 'Permanent Failure Message Delivery Rejected' and instructing the sender to check their terms of service, since it's generally because they are sending something out that violates those terms (spam, chain-mail letters, etc.). If this message is ignored and there are repeated attempts to send the message out the email account will be locked and the user suspended.
Technical support for end users is a paid service. So for a Free email account, unless the users have upgraded to the 'Mail Plus' option they can purchase a one time support request at https://controlcenter.everyone.net/amc/sscripts/payPerIncidentSupport.pl It is recommended that, rather than purchase a one-time support ticket that an upgrade to 'Mail Plus' (which provides free support) is done. A Mail Plus upgrade can be acquired by calling everyone.net at 585-295-1538 from 5am to 5pm, Pacific Time, (the number when calling from outside of USA is 001-585-295-1538).