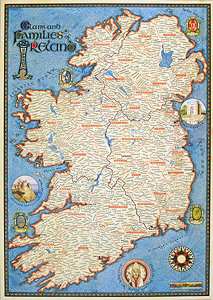 Map of Ireland
US$45.00 - US$10 OFF!! LIMITED TIME OFFER - NOW US$34
more currencies

Show Off! - Display your Heritage. Demonstrate your ancestral lineage. Show the world that you really are Irish with our superb new Irish maps.



Interested in Irish genealogy? The map shows the locations of hundreds of septs and families, some of which go back over a thousand years. To view the names shown on the map click here.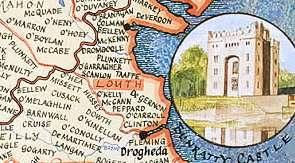 It's Big! Can be the focus of a room or office - measures 14.5 x 23.5 inches. Also featured are miniature illustrations of St. Patrick, and the castles of Bunratty and Dunluce.



Secure Ordering. Our Site uses secure SSL ordering to process credit card details so your details are safe and sound when ordering your Irish Maps.



Print a Notification Click Here to view a notification that you can print while waiting for your map of Ireland to be delivered.



Fantastic Limited Time Offer - Free Worldwide Delivery! No added delivery costs whatsoever. Usual delivery is 12 to 19 days.



Include a Gift Card! Our order form allows you to select a gift card (Happy Birthday, Happy Christmas, Thanks, etc.) and to add your personal message which we will include with your order!