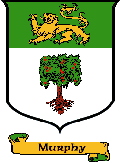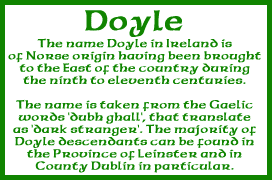 The following testimonials were received in our
mailbox recently. These satisfied customers have
even allowed us to print their email address
for verification!

Click Here to read what Kathleen Waby
of Lincoln, England had to say

Click Here to read what Brett Boyle
of St. Louis, Missouri had to say

Click Here to read what Linda Luker
of Georgia, USA had to say

Click Here to read what Dave McNulty
of Claremorris, Ireland had to say
Family Crest Screensaver - US$9.99
more currencies

Show Off! - Display your Heritage. Demonstrate your ancestral lineage. Show the world that you really are Irish with our superb new Screensavers from Ireland featuring the Crest for YOUR family name. Tens of thousands of family names available (and we have non-Irish names too!). Delivered by email direct into your email mailbox!



Make Your PC Look Great Screensavers are designed to protect the tube within your PC monitor. Now you can do this with style and be the envy of your workmates or visitors to your home.

Available for PCs running Windows (no MAC version avaialble currently).



Discover your Family Name History Our custom made screensavers from Ireland display a brief explanation of the origin of your family name.
Did you know:
The tree on the Murphy coat of arms signifies peace and liberality.
The O'Neill Sept of Tyrone provided some of the High Kings of all Ireland.
The name Collins is taken from the native O'Coileain Sept which was derived from the Gaelic word for 'whelp'.

7 Bonus Screensavers from Ireland FREE! Oscar Wilde, Irish Authors, Irish Stamps, Irish Whiskey Labels, Irish Pubs, Irish Paintings, Famous Irish Family Crests are the subjects of your free bonus screensavers.



100% Money-Back Guarantee. If you are ever unhappy with your Irish Heraldic Screensaver then simply return it for a refund - no questions asked - guaranteed!



Secure Ordering. Our Site uses secure SSL ordering to process credit card details so your details are safe and sound when ordering your screensavers from Ireland.