Our web site uses a shopping cart system.
You can add, review and remove items from your cart at any time.



To add an item to your cart simply click on the ADD TO CART button that appears next to the item.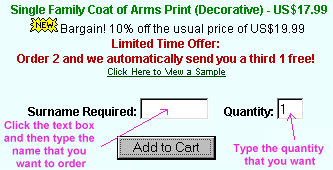 Some goods might require you to input extra information. For example, if you want to order a family crest print then you can input the name that you want in the text box provided before you press the ADD TO CART button




Check what is in your basket at any time by clicking the REVIEW buttons and links that are shown on every page.



This is the button that appears on the left hand side of the main pages:



This is the link that appears at the top of the individual items pages:

Clicking these will allow you to look at your cart. An example of a cart is shown below.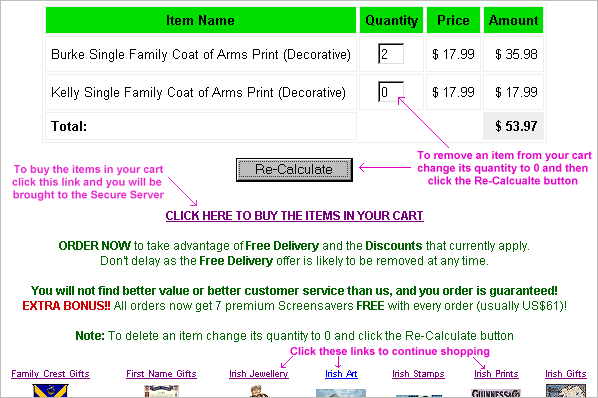 To buy the items in your cart click the CLICK HERE TO BUY THE ITEMS IN YOUR CART link (see the picture above).

This will take you to the order form where you can enter your personal details.
You will then be taken to the Secure Server where you can enter your credit card payment details.
Because we use a Secure Server your details are completely safe.
You will be issued an order receipt by email and then a delivery email when your order has been processed.

If you prefer to pay by cheque then you can - no problem!
We do accept personal cheques but have to wait 28 days for them to clear.
Bank drafts made out in Irish Euros are the fastest way to go.
We cannot accept Postal Orders.
Send a cheque or EURO draft with your order details to P.O. Box 9142, Blackrock, County Dublin, Ireland.

If you prefer to give your credit card details over the telephone then call us at ++353 1 2893860.
You may have to add an extra code to this number depending on which country you are calling from.
For example, if you are calling from the USA then dial 011 353 1 2893860.

We ship internationally and at the moment shipping is free!
We deliver quickly and you receive a lifetime guarantee!
We have thousands of customers worldwide. Find out what our customers think about us by clicking here.

We are dedicating to providing you with a service that is as enjoyable and uncomplicated as possible.
If you have any questions then please do not hesitate to contact us. You will find our contact details here.

We are here to help!




Michael Green,
IrishNation.com