Family Crest Stein - US$29.99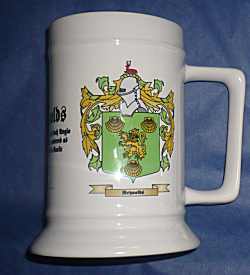 Do you know someone who likes beer? Or someone who needs an extra large coffee mug! If so then we have the perfect gift for you.

Personalized with the authentic family crest/coat of arms for the name of your choosing these unusual gifts are certain to be appreciated.

Our 22 ounce Steins are dishwasher and microwave safe so they are sure to last a lifetime. They make wonderful gifts for gromsmen or as a 'stag party' gift or party favour.

Shipped from the Emerald Isle they are available with a variety of other designs including Irish Sayings and Toasts, Pictures of Ireland or can be personalized further with a photo that you provide!

Order yours today to ensure you get Free Delivery (for a very limited time only).



Proud to be an Irish-Canadian Stein - US$29.99

Proud to be an Irish-Australian Stein - US$29.99

Family Crest Scroll Stein - US$29.99

Proud to be an Irish-American Stein - US$29.99

Family Crest Scroll Stein - Irish Scenery Background - US$29.99

Family Crest Scroll Stein - White Background (2) - US$29.99

Images of Ireland Stein - US$29.99