Order 2 and we automatically send you a third one free!
Order 2 and we automatically send you a third one free!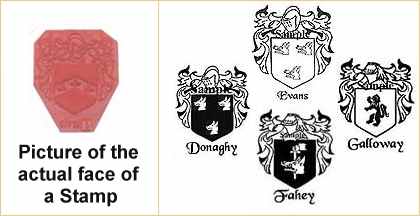 Show Off! - Display your Heritage. Demonstrate your ancestral lineage with our hand-made rubber (polymer) stamps that give perfect impressions of your family coat of arms. Use black ink or any color you wish. Use Gold ink or paint for a stunning impression that is perfect for creating your own stationery, letterheads or fancy envelopes. Use them for decorating the envelopes that wedding invitations are sent out in or for decorating the actual wedding invitation, menu, seating chart - use your imagination!


Made to last! Our stampers use polymer which is easily cleaned with water. If you use fancy paints then the stamp can easily be cleaned with white spirits. The family crest stamps are mounted on a high-gloss Pine Block and are available in two sizes: Small: 1.6 * 2.5 inches. Large: 2.5 * 2.75 inches. The inkpad and ink is not supplied, but is available in any office, stationery or arts and crafts shop. Click Here to read what Spencer McIntosh of Edinburg, VA, USA had to say about our stamps.


Tens of Thousands of name available. We use ancient reference books such as Burkes General Armory and the Rietstaps Armorial to research coats of arms. There are literally tens of thousands of names available from all around the world including, Ireland, England, Scotland, Wales, Spain, Portugal, Italy, Germany, America and beyond. We probably have your name too!


Great offer - buy 2 and get an extra 1 free! Our very limited time offer lets you have 3 stamps for the price of 2, and for a limited time only you get free worldwide delivery. Usual delivery time is 9 to 21 days.


7 Bonus Screensavers from Ireland FREE! Oscar Wilde, Irish Authors, Irish Stamps, Irish Whiskey Labels, Irish Pubs, Irish Paintings, Famous Irish Family Crests are the subjects of your free bonus screensavers.


100% Money-Back Guarantee. If you are ever unhappy with your Heraldic Stamper then simply return it for a refund - no questions asked - guaranteed!


Secure Ordering. Our Site uses secure SSL ordering to process credit card details so your details are safe and sound when ordering your screensavers from Ireland.