Show Off! - Display your Heritage. Demonstrate your ancestral lineage. Show the world the Crest for YOUR family name. Tens of thousands of family names available from all around the world. Need a gift for a friend or relative? Problem solved! This is the perfect Birthday, Graduation, Anniversary or Christmas gift. Here are some emails we received from delighted clients: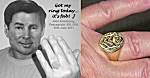 &nbsp &nbsp"You might have heard the 14 year old's shouts of joy when the ring arrived at her house.She called me immediately to describe it in detail. She loves it, hasn't taken it off and is making her four brothers and sisters very envious to say nothing of her cousin who is the same age. i may go broke ordering one for everyone...We'll see." Marion Dailey of Stamford, CT, USA, 24th May, 2010 more

&nbsp &nbsp"I am very impressed and thrilled with the ring." Wendy Walker of Columbia, Missouri, USA 17th June 2002 more

&nbsp &nbsp"The family crest seal ring is just absolutely spectacular" Holly Nobile of Arlington, AZ, USA, 5th Aug, 2008 more

&nbsp &nbsp"it's just beautiful" Cathy Merino of Kansas City, USA 21 Aug 2001 more

&nbsp &nbsp"It is Absolutely Gorgeous" Clare McGrath of Derbyshire, UK, 5th March 2002 more

&nbsp &nbsp"I am a very satisfied customer who feels that your products are great bargains." George Law of Gateshead in England, 25 Oct 2001 more

&nbsp &nbsp"I am beyond thrilled. I am giving my fiance his family crest ring as a wedding present.....incredible... The detailing is fantastic." Sunny Watts of Charlotte, NC, USA, 4th June 2009 more
Fantastic Limited Time Offer - Free Delivery by Courier! (either Fedex or Reg mail) No added delivery costs whatsoever. These rings are hand-crafted in Ireland and take 2 to 4 weeks to create and deliver. Faster Delivery Options. Click Here to view a notification that you can print while waiting for your ring to be delivered. Include a Gift Card! Our order form allows you to select a gift card (Happy Birthday, Happy Christmas, Thanks, etc.) and to add your personal message which we will include with your order!


Hand-Crafted! Each ring is individually stamped by the Assay Office in Dublin to ensure authenticity. They are solid backed and the weight depends on the size of ring ordered. These weights are approximations: Gents Signet - 14 Grams, Gents Claddagh - 7 Grams, Ladies Signet - 9 Grams, Ladies Claddagh - 6 grams. The Claddagh Rings are approx 0.68 in height (Gents) and 0.54 inch in height (Ladies). The Signet rings are approx 0.6 inch high * 0.5 inch wide (Gents) and 0.5 * 0.4 inch (Ladies). If you have a specific design you want used then let us know! (otherwise we will use the oldest version found in the record books).


Free Gift! For a limited time only All family crest ring orders also receive a Quality Print of the family crest that will appear on the Ring! Absolutely free! Size 8*10 inches, standard picture frame size, perfect for framing. Click Here to View a Sample.