Family Crest Decanter Set - by Galway Crystal - US$499
more currencies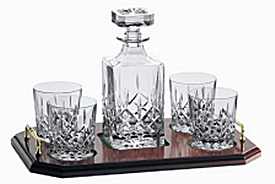 Family Crest Decanter Set


This superb decanter set is made in Ireland by Galway Crystal. Four glasses and 1 decanter are presented on a fine wooden serving tray - truly a marvellous and substantial gift.

The finest lead crystal glass is used and all of the glassware has your family crest engraved on them. Has to be seen to be believed!