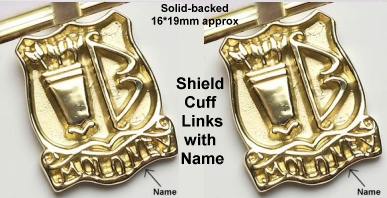 Click Here to read what Jared Quinn of Fitchburg, Massachusetts had to say about our Cufflinks!


Click Here to read what Wendy McDonough of Tacoma, Washington had to say!


Click Here to read what Dan Walsh of Pennsylvania said about our cufflinks.
Show Off! - Display your Heritage. Show the world the Family Crest for YOUR family name. Thousands of family names available from all around the world.


Need a gift for a friend or relative? Problem solved! This is the perfect Birthday, Anniversary, Christmas or Saint Patrick's day gift. Show them you care! The perfect gift for the man who has everything!


Fantastic Limited Time Offer - Free Registered Delivery! No added delivery costs whatsoever.

These Cuff Links are hand-crafted in Ireland and take 3 to 5 weeks to deliver. Faster Delivery Options. They are hallmarked by the Assay Office in Dublin for authenticity. Shield Cufflinks are 11*13 mm approx. Oval Cufflinks are 18*13 mm approx. View our COLOR cufflinks further down this page.

Free Gift! For a limited time only all engraved family crest Cufflink orders also receive a Print of the name to be engraved on the Cuff links! Free! Size 8*10 inches, standard picture frame size, perfect for framing. Click Here for Sample.


7 Irish Screensavers Free! Irish Pubs, Paintings, Family Crests, Oscar Wilde, Whiskey Labels and more Screensavers free with every order. Secure Ordering. Our Site uses secure SSL ordering to process credit card details so your details are safe and sound when ordering your Irish jewellery.


Include a Gift Card! Our order form allows you to select a gift card (Happy Birthday, Happy Christmas, Thanks, etc.) and to add your personal message which we will include with your order! Click Here to view a notification that you can print while waiting for your cufflinks to be delivered.