Gifts from Ireland: New Family Crest Clocks! Make your home or office wall look great! Wooden Clock that is suitable for wall-mounting or displaying on a desk. Beautiful, authentic, researched - sure to make a treasured gift!


Free Delivery! For a limited time we are offering no added delivery costs whatsoever. Usually delivered in 14 to 21 days. Faster Delivery Options.


Money-Back Guarantee. If you are ever unhappy with your Heraldic Clock then simply return it for a refund - no questions asked - guaranteed!


Secure Ordering. Our Site uses secure SSL ordering to process credit card details so your details are safe and sound when ordering your gifts from Ireland.


Include a Gift Card! Our order form allows you to select a gift card (Happy Birthday, Happy Christmas, Thanks, etc.) and to add your personal message which we will include with your order!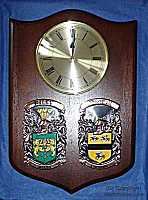 US$169.99 (reduced from US$199.99), free delivery.
more currencies

Hand-painted researched and authentic shields
on a Mahogany Plaque. Large! Size 16*11 inches.
These make a wonderful wedding or anniversary gift
and are delivered in a fine presentation box. Gift-wrapping available!