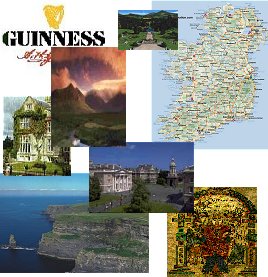 US$6 off!!!! Now US$9

Solves the 'where to stay' problem - over 500 hotels, guesthouses and B&Bs listed, County by County, each with a separate 'budget' listing.



Packed with useful information such as: Dublin Traffic details, Telephone charges, Tax Free Shopping, Taxi Fares, Accommodation charges, Contact Numbers, Smoking in Ireland and a Map of Ireland showing the location of the main attractions.



Find out the best attractions in Ireland - County by County! The best 100 tourist 'things to do' are listed with a description of each and further contact information.



The report is delivered into your mailbox in .txt and .rtf formats - easy to download, easy to print and easy to read!



Secure Ordering. Our Site uses secure SSL ordering to process credit card details so your details are safe and sound when ordering your Irish vacation travel guide.