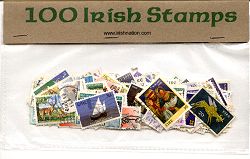 Find a Gem! 100 genuine used Irish stamps are perfect for the budding collector or as a gift for the established collector.



Need a gift for a friend or relative? Problem solved! This is the perfect birthday, anniversary or Saint Patrick's day gift.



Fantastic Limited Time Offer - Free Delivery! No added delivery costs whatsoever.



Secure Ordering. Our Site uses secure SSL ordering to process credit card details so your details are safe and sound when ordering your Irish Stamps.



Include a Gift Card! Our order form allows you to select a gift card (Happy Birthday, Happy Christmas, Thanks, etc.) and to add your personal message which we will include with your order!