US$9 - Delivered by Email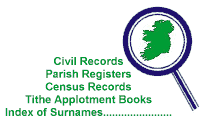 US$6 off!!!! Now US$9

Our Irish Genealogy Guide is perfect if you are starting the search for your Irish Roots! Completely revised and containing a new section that shows you How to use the Internet to research your Irish Genealogy, the guide is delivered by email.



It will save you time and money by getting your research off the ground without you having to spend a fortune on Books, CDs or Software! It specifies exactly what is involved and describes how you should begin your search (and it does this in simple language).



Information about the different types of records that are available is given. There is also a comprehensive schedule of genealogical contacts should you consider researching further.



The 35-page report is delivered into your email mailbox in .PDF format - easy to download, easy to print and easy to read!



Secure Ordering. Our Site uses secure SSL ordering to process credit card details so your details are safe and sound! Order Now!


---

CONTENTS

Introduction
Identify your Aims
Start with your family
Examination of Records
&nbsp &nbsp &nbsp &nbsp The General Register Office
&nbsp &nbsp &nbsp &nbsp The National Archives
Church Records
&nbsp &nbsp &nbsp &nbsp National Library of Ireland
&nbsp &nbsp &nbsp &nbsp Catholic Church Registers
&nbsp &nbsp &nbsp &nbsp &nbsp &nbsp &nbsp &nbsp Parish registers
&nbsp &nbsp &nbsp &nbsp &nbsp &nbsp &nbsp &nbsp Index of Surnames
&nbsp &nbsp &nbsp &nbsp &nbsp &nbsp &nbsp &nbsp Catholic Directories
&nbsp &nbsp &nbsp &nbsp Church of Ireland
&nbsp &nbsp &nbsp &nbsp Presbyterian
&nbsp &nbsp &nbsp &nbsp Methodist
&nbsp &nbsp &nbsp &nbsp Quaker
&nbsp &nbsp &nbsp &nbsp Jewish
Census Records
Land and property records
&nbsp &nbsp &nbsp &nbsp Tithe Applotment Books
&nbsp &nbsp &nbsp &nbsp Land Registry
&nbsp &nbsp &nbsp &nbsp The Primary Valuation of Irelan
&nbsp &nbsp &nbsp &nbsp Index of Surnames
Deportation Records
Wills
Surnames of Ireland
Coats of Arms
Using the Internet to Research your Roots
&nbsp &nbsp &nbsp &nbsp Web Forums/Bulletin Boards
&nbsp &nbsp &nbsp &nbsp Create a Personal Web Site
&nbsp &nbsp &nbsp &nbsp Search the Web
&nbsp &nbsp &nbsp &nbsp Important Web Sites
Conclusion

Appendix A: Form of Investigation
Appendix B: Schedule of Heritage Research Centres
Appendix C: Schedule of individuals and organisations willing to conduct research
Appendix D: The 100 most frequently found Irish Surnames and their meaning

US$8 - Delivered by Email