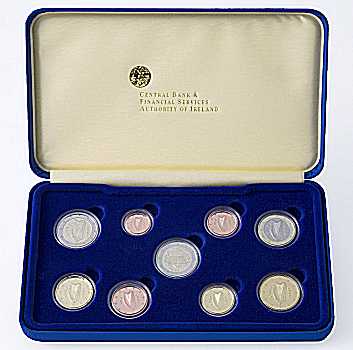 click the picture above for a closer view

This proof set of genuine Irish euro coins includes the new commemorative 2 euro Treaty of Rome coin in proof quality, in addition to the eight circulating coins also in proof quality, and all are dated 2007. This exclusive proof set is strictly limited by the Irish Government to 10,000 sets. We have very few remaining. A proof set is a set of high quality unused, highly polished genuine mint coins.



Limited number available These are the real thing - actual Irish coins and are presented in a fine blue mounting case with the Irish Government Certificate of Authenticity. We only have a very limited supply so as that supply diminishes the prices shown below will increase. Take advantage of this great offer today before the price goes up!



Need a gift for a friend or relative? Problem solved! This is the perfect birthday, anniversary, wedding or Saint Patrick's day gift.



Fantastic Limited Time Offer - Free Registered Mail Delivery! No added delivery costs whatsoever. Our Site uses secure SSL ordering to process credit card details so your details are safe and sound when ordering your genuine coin set from Ireland.

November 2010: PRICE INCREASED! Was US$149.99 - Very Few Remaining.
June 2011: PRICE INCREASED! Was US$179.99 - Last Few.
These are collector items sure to increase in value.
NOW US$189.99 per set