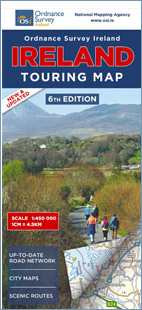 Reproduced from the Ordnance Survey of Ireland this Irish tourist map will stop you getting lost on your Irish travels! Give it as a gift to a friend or relative who plans to visit the Emerald Isle. The map also has a handy Distance Chart and Micro-Maps of Dublin, Belfast, Cork, Galway and Limerick.


Contains a Road Mileage Chart so you can accurately plan your trip. Fold out size is 64.5cm x 89.5cm. Scale 1:450000. It also lists the major Irish tourist attractions.


Scale1:450,000. Size when opened is 40*27 inches. When fully closed is 4.5*10 inches


Fantastic Limited Time Offer - Free Worldwide Delivery! No added delivery costs whatsoever. Usual delivery time is 7 to 11 days. Click Here to read what Landru Medvec of California City, CA, USA had to say about our Irish tourist map!


Secure Ordering. Our Site uses secure SSL ordering to process credit card details so your details are safe and sound when ordering your Irish tourist map.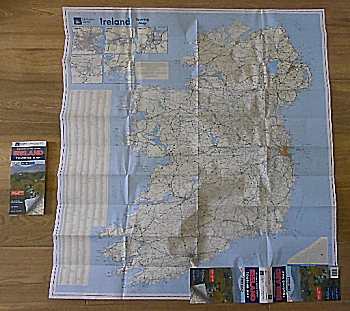 click to enlarge